Industrial Air Quality: Emission & Pollution Testing Consultants
Phlorum's air quality team has a wealth of experience in assessing emissions from industrial processes for planning, permitting and health and safety purposes. We have the expertise to undertake detailed air dispersion modelling (using, e.g., ADMS and Aermod) of a range of different pollutants, to compile and use emissions inventories – such as the NAEI – and in dealing with Environmental Permitting issues under the Local Air Pollution Prevention and Control (LAPPC), Medium Combustion Plant Directive and Industrial Emission Directive regimes.
We have worked with a wide range of clients, assessing processes that have included: oil and gas extraction and processing; ferrous and non-ferrous metal processes; various types of incinerators and combustion plant; chemical processes; power generation; mining; waste water treatment; livestock, agriculture and food processing; solid waste handling and disposal facilities, amongst many other industrial emissions sources.
What Are Industrial Emissions?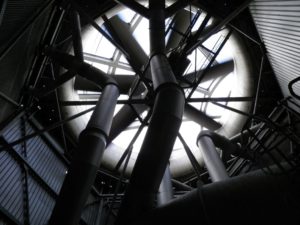 Industrial processes are responsible for the direct release of large quantities of pollutants to the atmosphere, commonly this is in the form of waste gasses from combustion sources that are dispersed into the atmosphere via a tall chimney or stack (e.g. emissions from gas and coal-fired power generation). However, fugitive emissions also occur from the storage and/or transport of materials. To complicate the issue, many of the chemical species released by industry react in the atmosphere to form secondary pollutants, which may also be harmful to health and/or the environment.
Differing pollutants are released by different processes, with carbon monoxide, sulphur dioxide and nitrogen oxides being the primary pollutants caused by combustion. However, other pollutants such as particulate matter, Non-Methane Volatile Organic Compounds (NMVOCs) and lead (Pb) have a diverse range of sources across many industrial sectors.
A number of laws, or directives, exist at a National and European Level to control emissions from large scale industrial activities. The Industrial Emissions Directive is one such law, which aims to reduce, and as far as possible eliminate, pollution arising from the largest industrial activities, through the application of Best Available Techniques (BATs).
Which Industries Need Industrial Emissions Assessment?
Depending on the scale of emissions from an industrial process it is either regulated by the local authority for smaller processes or the Environment Agency for much larger sources.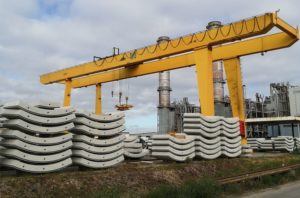 There are many other industrial sources of waste gases, odour and fine particulate material that can pollute the atmosphere. Examples of such industries include:
Cement manufacture;
Solvents sector;
Fuel refinery and production;
Metal production and processing;
Mineral extraction and processes;
Tar and bitumen activities – e.g. roadstone coating;
Chemical industry;
Paper, pulp, board and textile industries;
Waste management, treatment, transfer and storage; and
Animal waste incinerators (cremators) and abattoirs.
In addition to stack emissions from definable "point" sources, airborne pollutants from processes associated with these industries can arise from other types of sources, including: volume (e.g. plumes of dust from elevated conveyor systems in quarries); area (e.g. methane emissions from the surface of a landfill site); and line sources (e.g. emissions from a moving diesel powered locomotive).
Our Industrial Emission Consultancy Services
Stationary source emission measurement;
Stack emission measurements;
Vent emissions;
Flare emissions;
CO2 emission calculation;
Stack emissions testing (not in-house);
Source emissions testing (using UKAS accredited laboratories, where possible);
Dust and fine particle measurement and testing;
Source apportionment studies;
Emissions assessments;
Emission modelling;
Fence line monitoring;
Indoor air monitoring;
Air toxic sampling and analysis; and
Effects of emissions on ecology.
If you are unsure which industrial emissions service you require, please don't hesitate to contact one of our expert consultants, who will be happy to offer advice based on your specific needs and circumstances.