Air Pollution Contributes To Biggest Causes Of Death In London
Published on 28-01-2014 by Phlorum
Air pollution in London is a contributing factor to the four biggest causes of death in the city, according to a study conducted by non-profit organisation Clean Air in London.
Figures from the study by the Office for National Statistics, commissioned by Clean Air in London, ranked the main causes of fatal outcomes in each London borough over the past 12 years. Air pollution was found to be a main contributor to four of the biggest death causes among men and four out of the five main causes of death among women. The campaign group is calling for immediate actions to cut exhaust fumes in the city.
The main causes of death among women were heart attacks, dementia, lung cancer, chronic lower respiratory diseases and strokes. For men, the causes were heart attacks, chronic lower respiratory disease, strokes, dementia and lung cancer, despite the fact that smoking rates are lower in London compared to other parts of the United Kingdom. The study also found that on average, people in London are half as likely to die of heart diseases and cerebrovascular diseases today as they were 12 years ago.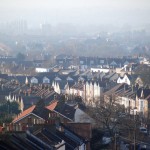 The findings were sent to the London Health Commission which was created by London Mayor Boris Johnson in 2013. Politicians must take urgent action to lower congestion levels in the capital, says Simon Birkett, director of Clean Air London. Politicians and officials need to stop saying that they do not want to frighten people about air pollution and they should immediately do something to reduce congestion levels in the UK capital, he said.