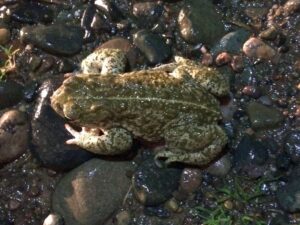 Great crested newt, pool frog and natterjack toad are the only British amphibians that are designated European Protected Species (EPS). Pool frog and natterjack toad are reasonably rare and are unlikely to be found on most development sites. However, developers need to be aware of the potential for great crested newt to be present on their land and the implications this might have for development.
There are three native newt species in the UK. Great crested newt, smooth newt, and palmate newt. Compared to the other newt species, adult great crested newts are significantly larger, have an orange strip on their toes, and can have a blotched orange belly. The male also has a tall crest along its back and a separate crest on its tail.
The survey season for great crested newt focuses on their breeding period when they return to their ponds. They live most of their life on land, amongst rough grassland, hedgerows and woodlands. Great crested newts are nocturnal and tend to emerge from hibernation when temperatures have risen above 5 °C. This can be from February to May. Great crested newt surveys can involve several techniques:
Bottle traps (laid out at night and collected in the morning);
Torching at night;
Egg searches on vegetation;
Netting; and/or
eDNA sampling.
Great crested newts can be surveyed from May to June (depending on the technique used), although the peak month is from mid April to mid May.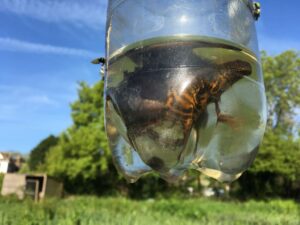 You need a license to handle great crested newts. If they are found on a site then a European Protected Species Mitigation (EPSM) license will be required. In parts of the UK there is an alternative to traditional surveying and waiting for the peak month to survey. This is District Level Licensing. The aim of this approach is to offset the impacts of development projects at regional level by virtue of a payment system.
The developers pays an agreed sum for local conservation measures for great created newts and then does not have to carry out site mitigation (e.g. fencing trapping, and monitoring). The advantages of the District Level License:
This approach is much quicker and a license can be obtained all year round. No on-site mitigation, trapping or translocation is required.
The disadvantages of the District Level License:
This may not be the best option for all sites, and may be more costly. Generally, the District Level License scheme is more cost effective on low impact schemes, with payments rising considerably when ponds are located on, or close to the site.
Where the District Level License is available: Currently through Natural England the scheme is available at:
Kent and Medway; Cheshire East, Cheshire West and Chester; Essex; Shropshire (except Telford and Wrekin – see below); Swindon and Wiltshire; Somerset (excluding the former West Somerset district and Exmoor National Park); Greater Manchester; North Somerset; and South Gloucestershire
Through Nature Space the scheme is available at:
Bedford Borough Council, Buckinghamshire Council (former Aylesbury Vale District Council area only), Central Bedfordshire Council, Cheltenham Borough Council, Cherwell District Council, Cotswold District Council, Forest of Dean District Council, Gloucester City Council, Gloucestershire County Council, Milton Keynes Council, Oxford City Council, Oxfordshire County Council, South Oxfordshire District Council, South Northamptonshire Council, Stroud District Council, Tewkesbury Borough Council, Vale of the White Horse District Council and West Oxfordshire District Council.
The team at Phlorum is able to advise on great crested newt issues and liaise with planning authorities where necessary. We have experienced surveyors who are licensed to undertake presence/absence and population assessment surveys for great crested newts and, in addition, we are able to compile and offer European Protected Species Mitigation (EPSM) licence applications. Contact us today for free advice if you are concerned about an ecological issue that might require further investigation. We are happy to have a no obligation chat to see how we can help.