Badger Surveys & Assessments
Badgers are an easily recognisable and very sociable nocturnal species. They live in an underground network of chambers and tunnels called a sett. A main sett can have several entrances.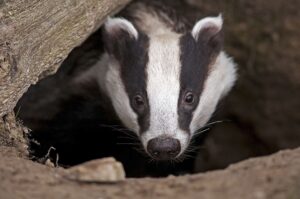 Badgers and their habitat are protected under the Protection of Badgers Act (1992) which makes it an offence to kill, injure, interfere with or take a badger. It also makes it an offence to damage or interfere with an active sett unless a licence is obtained.
If the presence of badgers is suspected on a development site, then a badger survey and assessment will need to be carried out to decide whether or not a development licence might be required for any proposed construction works.
Badger surveys can utilise various techniques, including the following:
A daytime walk over of the site (winter can be easier when vegetation has died back);
Use of wildlife video cameras, triggered by movement and able to capture images at night; and
Bait marking (useful to check ranges of badgers and to see if setts are linked with the same clan).
At Phlorum we have experience of obtaining badger licences for a wide range of projects for both development and non-development purposes. This includes planned disturbance close to a sett, temporary closure of a sett, removal of a sett and/or creation of artificial setts.
Contact us for advice if you think badgers are causing an issue that might require further investigation. We are happy to have a free, no obligation chat to see how we can help.