Japanese Knotweed Removal – a knotty problem!
Published on 21-03-2014 by Dr Paul Beckett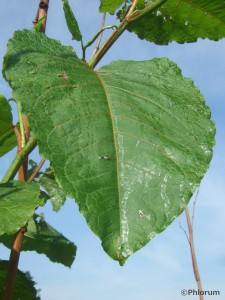 It's actually beautiful stuff. But Fallopia japonica, AKA the dreaded Japanese knotweed, a perennial in the Polygonaceae family, is a monster and powerfully destructive. A relative of Giant Knotweed and Himalayan Knotweed (which are also covered by the same legislation to prevent their spread), it was brought to Britain in the 1800s as an ornamental plant and while it is dramatically attractive, it has taken hold in all sorts of places where it isn't welcome.
Japanese knotweed is bigger, stronger and faster-growing than many native plants and upsets the delicate balance between our local creatures and the environment they live in. Because it's a long way from the place it evolved, it doesn't have any native predators. Nothing eats it, nothing digs it up, nothing naturally halts its relentless spread.
The plant spreads via underground stems called rhizomes, which make it even more of a challenge to control and get rid of. It pushes beneath tarmac and concrete, walls and drains, damaging our infrastructure. All it takes is ten days for a tiny centimetre long fragment of rhizome to turn into a thriving plant, and, anecdotally, the fragments can remain dormant in the soil for two decades and still produce viable plants.
The legal side of knotweed removal
In short, it's no joke. In fact, the problem is so acute that it's actually been written into the law of the land. In the words of The Environment Agency:
"The Wildlife and Countryside Act 1981 states that it is an offence to plant or otherwise cause to grow in the wild any plant listed in Schedule nine, Part II of the Act. This lists over 30 plants including Japanese knotweed, giant hogweed and parrot's feather. The police are responsible for investigating this offence and each police force has a wildlife liaison officer who can be contacted."
It is illegal to plant Japanese knotweed or cause it to grow in the wild
It isn't illegal simply to have it growing on your land… although it might drive you to distraction!
If it escapes from your land and starts growing elsewhere, you might be legally liable
It is classified as controlled waste
You can't just dump it in your domestic green recycling
Only licensed landfill sites can take it, as long as you give them notice and get the right waste transfer documents
Removing knotweed – A job best left for experts
How to get rid of Japanese knotweed? You can do it yourself. But there are so many regulations around its removal and the way the remains must be destroyed that it's usually best to call in the professionals. Someone who knows their onions will:
Have proper National Proficiency Tests Council (NPTC) certification
Remove the plants plus every tiny scrap of rhizome
Take proper precautions to make sure it doesn't come back
Make sure it doesn't spread to other areas
Dispose of it properly, taking the debris away with them
Get the permissions needed to use herbicides near watercourses
Know about local authority collection services and commercial waste facilities that accept knotweed waste
Get a Japanese knotweed survey
What's the extent of your problem? We undertake surveys and site inspections as well as giving advice about control and management and actually removing the knotweed stuff for you. Our team are all appropriately licensed, highly qualified Japanese knotweed removers (most have a Master's degree in a related discipline) and are members of a range of professional bodies including the Chartered Institute of Ecology and Environmental Management, the Property Care Association Invasive Weeds Control Group and the Institute of Environmental Management and Assessment. We're fully trained on an ongoing basis in the best ways to remove this and other pernicious weeds. And, of course, we're fully insured and can provide industry-topping insurance-backed guarantees and collateral warranties. Any questions? Just ask.