Air quality consultants report an increasing focus on air pollution
Published on 26-03-2014 by Dr Paul Beckett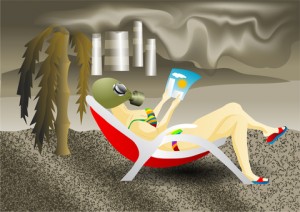 As air quality consultants we're fascinated to see the steady, inexorable increase in the profile of air quality as pollution causes an increasing number and variety of problems across the world. Here are just a few recent news items that, together, paint a troubling picture of the state of the air that many of us breathe.
Paris car ban air quality woes
Air quality testing is in the news again as pollution in Paris led to a car ban which ground the city to a halt. China's largest online travel agency, Ctrip.com, has just launched a new travel insurance product for tourists, who can now claim for trips ruined by air pollution. At the same time eighteen City-based organisations including Land Securities, Pret a Manger and The Barbican Centre have committed to tackling air pollution in London's famous Square Mile.
Scotland's fresh air under threat
Scientists in Edinburgh are bringing hi-tech backpacks into play in an effort to quantify and study personal exposure to air pollution. And a prominent Labour MSP has highlighted how:
"poor air quality is a daily experience for too many people in Scotland".
Smog damages international executive recruitment
Back to China… according to the American Chamber of Commerce in Beijing, China's infamous smog is putting top foreign executives off working in the country, highlighting how air pollution is damaging international recruitment. And in the EU, the European Environment Bureau claims air pollution reductions proposed by member states are 'regrettably low', and that member states have been given too long to meet them.
Some London air pollution levels are double the legal limit
London Liberal Democrat politicians claim existing measures to protect school children from air pollution are not working, after surveying the capital's 935 schools that sit within 150m of a busy road. Another piece of research reveals air pollution levels are reaching almost double the legal limit in some areas of Highgate, London. And it appears the weirdly warm spring weather might trigger smog alerts in our biggest cities.
Bringing more fresh air indoors
Poor air quality has an impact indoors, too, especially in new buildings which have to comply with stringent insulation regulations. It's a good thing in many ways, but effective insulation often used to mean very poor ventilation and next to no air flow. Part F of the building regulations has been created to deal with the issue, laying down the law about air exchange rates and air quality reports. If, like us, you've noticed a sharp increase in the number of companies offering Mechanical Ventilation Heat Recovery systems, you're not alone. Some say it's an industry right on the tipping point of a boom.
What does the future hold? Watch this space. Only two things are certain: air quality issues are not going to go away… and we're likely to be very busy indeed.
Do you need expert air quality consultants?
We help businesses comply with their legal air quality obligations and carry out Environmental Impact Assessments in relation to a wide range of transport, industrial and construction emissions. This is all in line with the objectives of the UK Air Quality Strategy and other appropriate standards for the other countries in which we regularly work (e.g. Africa and the Middle East). We also offer expert odour assessments and assess occupational exposure to air pollutants. If you'd like to know more, please contact us.