Brexit would legalise Japanese knotweed sabotage
Published on 01-04-2016 by Dr Paul Beckett
Last updated 06-01-2022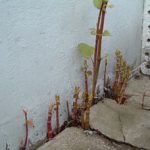 [UPDATE] *****APRIL FOOL!!!*****
The UK's exit from the EU would allow garden centres and plant nurseries to sell Japanese knotweed and other troublesome non-native invasive plant species. It is currently illegal to plant Japanese knotweed on someone else's property. However, if the UK were to exit the EU, this would change, allowing those harbouring a grudge against an individual, group or organisation to seek to cause mischief by planting it on their land. Currently, it is EU law that prevents damaging and dangerous knotweed from being sold to the general public in the UK. With the dropping of these laws if the UK were to exit Europe, there would be no barriers to sellers seeking to cash in on demand from vexatious individuals looking to cause sabotage by planting knotweed wherever they choose. These concerns are amplified by worries that Eco-activists are planning to obtain knotweed propagules to contaminate wide expanses of land in order to make them unsuitable for development; the massive remediation costs forcing developers to drop their plans. Nithin Sawiney, MP for Dunstable South, had the following to say:
"I am appalled that a number of well-known garden centres are seeking to obtain Japanese knotweed plant material for sale to the general public, should the UK exit Europe. They are clearly looking to cash in on demand from unscrupulous groups with clear intent on spreading this vile and pernicious weed across our beautiful countryside. It is for this reason that I implore the public to engage their common sense and vote this summer to keep us in the EU, where environmental legislation has been developed to protect us. Without the EU we are at the mercy of those who value a fast-buck over the effective stewardship of our country's diverse and unique landscape."
This could just be the tip of the iceberg in the ever expanding toolbox of the phyto-saboteur. Rumours abound that plant species such as Kudzu, which make knotweed look like pansies and which have so far been kept out of the UK by our cold and wet winters, could be appearing here soon due to the favourable growing conditions afforded by climate change.