Angola Offshore Environmental Risk Assessments
Published on 08-01-2019 by Dr Paul Beckett
Last updated 10-12-2021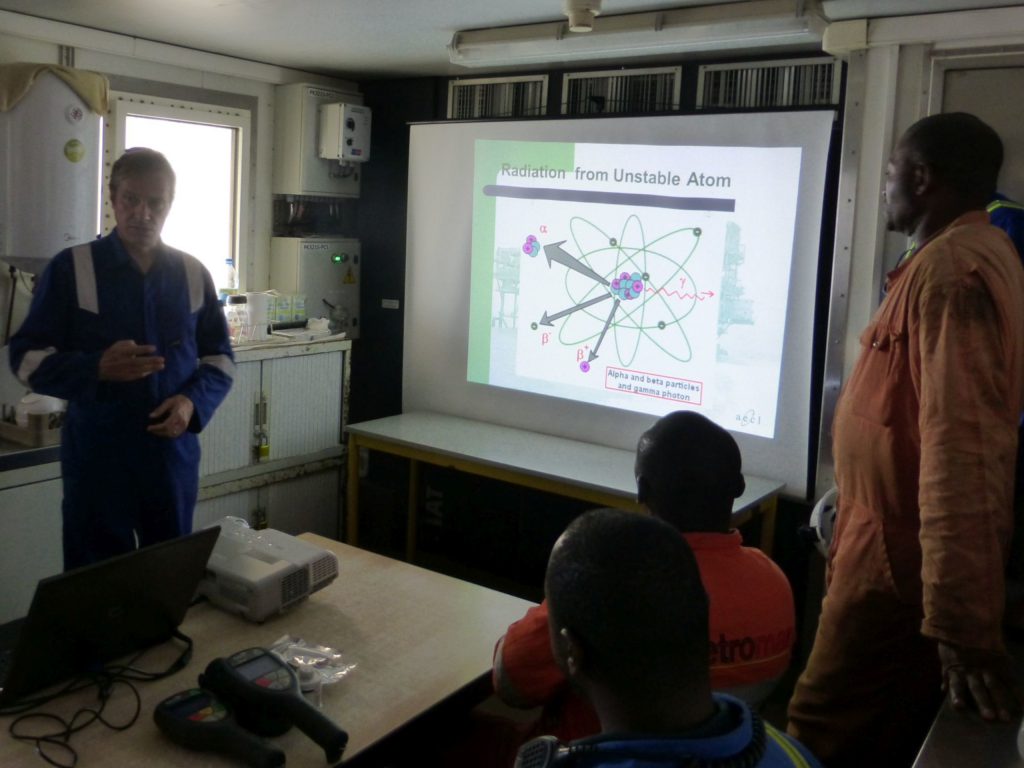 Returning recently to Africa, Phlorum worked with AECL to provide environmental monitoring and training services to staff aboard offshore oil and gas platforms off the coast of Angola.
The work involved training Health, Safety and Environment Officers to understand the risks of occupational exposure of offshore workers to a range of environmental risks that are of particular concern to the oil and gas sector – i.e.:
Noise – high noise levels from equipment and piping can cause long term damage to hearing;
Hydrogen sulfide (H2S) – high concentrations of this gas can be fatal;
Benzene – a component of crude oil that can increase the risk of various cancers;
Ionising radiation from TENORM (Technically Enhanced Naturally Occurring Radioactive Material) – emissions cannot be seen, heard or felt and therefore sources need to be identified and dealt with before they can cause significant harm.
In addition to training, Phlorum and AECL also undertook monitoring of these environmental risks at a large number of platforms and vessels within an oil and gas block. Some monitoring was also undertaken at associated onshore facilities.
The work repeated a similar contract that was previously undertaken by the same team.
Regular training and monitoring of occupational exposure to environmental risks allows oil and gas operators to comply with internationally accredited management systems and to ensure staff safety.
If you have any need for occupational exposure training, monitoring, assessment or auditing, or the creation of appropriate policies or safe systems of work, then please get in touch. We would be very happy to help.
You can read more about Phlorum's occupational exposure monitoring services here.