Workplace Pollution: What Are the Risks?
Published on 05-06-2019 by Dr Paul Beckett
Last updated 09-01-2022
Air Pollution is the theme for World Environment Day, today on 5th June 2019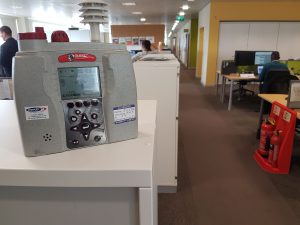 People can be exposed to a variety of substances at work which can lead to harmful health effects. Workplace Pollution is defined as the presence of hazardous materials – visible and invisible – such as chemicals, gases, vapours and fumes, dusts and fibres, and even noise. The main exposure routes are through breathing, direct contact, injection and swallowing.
Varying exposure to Workplace Pollution has led the Health and Safety Executive (HSE) to set Workplace Exposure Limits (WELs) for approximately 500 substances under the Control of Substances Hazardous to Health Regulations 2002 (as amended). In the UK, the most common type of workplace pollution is exposure to poor indoor air quality. However, there have been recent calls for the HSE to recognise ambient air pollution as an occupational health hazard for outdoor workers as well.
Workplace Pollution: Indoor Air Pollution Sources
| Pollutant | Common Sources in Workplace Environments |
| --- | --- |
| Carbon Monoxide (CO) | Any combustion source such as heaters, gas boilers, gas cookers, generators. Particularly a risk in inadequately ventilated areas. |
| Nitrogen Dioxide (NO2) | Any combustion source such as heaters, gas boilers, gas cookers, generators. |
| Asbestos | Building materials such as tiles for roofing, flooring and ceilings, cement, and some heat resistant materials. |
| Formaldehyde | Foams and coverings in and on fittings and furniture. Solvents, paintings, coatings. |
| Ozone | External sources, particularly in the summer when outdoor ozone can be elevated. Photocopiers can also generate high levels of ozone. |
| Radon | A radioactive gas that occurs naturally in soil, rock and some building materials. In the workplace its highest concentration is typically in lower levels and basements. Warm air from heating can draw it up to higher levels. |
| Fine Particulate Matter (PM) | PM most usually comes from vehicle emissions in the external environment. PM comprises solid and/or liquid particles suspended in the air. Generally, the smaller the particles, the more dangerous they are considered as they are more likely to penetrate deeper into the lungs and bloodstream. |
Indoor air pollution can be caused by heating, ventilation, damp, chemicals in cleaning products and some building materials, finishes and furnishings.
The harmful effects of poor air quality have been frequently reported in the news. Research has linked air pollutants to health effects such as lung cancer and the worsening of respiratory diseases such as asthma. Recent research has also found air pollution to be potentially damaging to every cell and organ in the body.
What Symptoms are often Linked to Poor Indoor Air Quality?
Eyes, nose, throat and skin dryness and irritation;
Headaches;
Fatigue;
Shortness of breath;
Dizziness;
Sinus congestion / irritation; and
Aggravation of existing allergies
Air Quality Testing In The Workplace
It is important to monitor pollutants in the air to reduce the onset of these symptoms and to ensure compliance with WELs or certification schemes such as BREEAM. The type of monitoring will depend on the nature of the workplace.
Phlorum has significant experience in assessing many types of workplace air pollution, including indoor air quality assessments. This includes:
Occupational exposure monitoring for comparison with WELs for a very wide range of industries (e.g. metal finishing, nail-bars, welding, aircraft maintenance, construction, coatings);
Investigating office workers' complaints of poor indoor air quality and comfort levels (e.g. in relation to 'Sick Building Syndrome');
Monitoring of Volatile Organic Compounds (VOCs) at a range of work sites – particularly associated with contaminated land remediation;
Real-time monitoring of construction dust emissions; and
Indoor post-construction monitoring to assist clients seeking BREEAM Hea-O2 credits.
We also have experience in monitoring occupational exposure to radiation for the Oil and Gas sector.
If you would like to find out more about how we can help with your workplace and/or indoor air pollution assessment needs, please contact us. We would be very happy to help.