Tree Climbing Bat Survey: How Our Recent Qualifications Enhance Our Services
Posted on 27th February 2020 by phlorum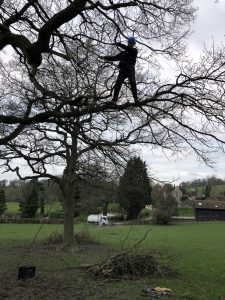 Recently, a few members of our staff successfully carried out a tree climbing and aerial rescue training course. This, in conjunction with our licensed ecologists, makes Phlorum fully licensed and certified to undertake tree climbing surveys for roosting bats (or aerial bat surveys).
Phlorum has extensive experience of working with bats. Our services include preliminary ground level roost assessments, nocturnal emergence and dawn re-entry surveys, roost characterization, design of site-specific survey methodologies, and the design of bat mitigation for developments. Phlorum routinely completes these in order to avoid potential harm to bats and to make sure our clients sensibly mitigate any risks of prosecution.
Now, thanks to our staffs' recent qualifications, we can also offer tree climbing bat survey services; but what are the benefits of an aerial bat survey over a more standard ground-based one?
As mentioned in one of our previous blog posts, you can survey for evidence of bats pretty much all year round, but the methods you can use and the evidence you can collect changes significantly through the seasons. What bats find attractive in buildings or on trees also varies depending on the bat species, not to mention the different types of bat roost.
Identifying potential roost features on trees can be tricky for ecologists. It is often a judgement call from the ground, which can be obstructed by a dense tree canopy in spring/summer seasons or by a lack of bat activity in hibernation seasons (between October and April). Also, sometimes cracks or holes in trees that look compatible with roost presence from the ground can, on closer, aerial, inspection, turn out to be shallow features unsuitable for bats.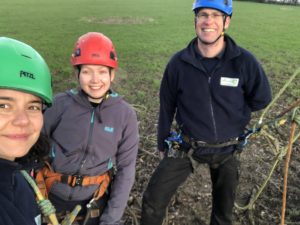 This is when tree climbing bat surveys become useful. Following a ground-based roost assessment of trees on site, to identify potential roost features (PRF), a licensed tree climber ecologist would be able to ascend the tree to check closely, feature by feature. Undertaking an aerial tree survey enables us to transform a judgement call to a detailed inspection, providing greater certainty and significantly reduced risk of breaking the law.
So, rather than carrying out a series of labour demanding and expensive activity based bat surveys from the ground during a period when bat activity is restricted (e.g. in winter), we can now carry out cost effective aerial bat surveys which will provide more accurate results, at any time of the year, reducing the need for further surveys or mitigation strategies for the site.