Phlorum in France
Posted on 9th July 2010 by phlorum
Last Saturday morning, Phlorum staff set out for a lovely weekend in France, courtesy of Jane and her husband Ron. We had to set off very early to catch the ferry from Dover to Calais, so not much sleep was had by all. By the time we got the hang of driving on the wrong side of the road and going around roundabouts the wrong way, we were almost there!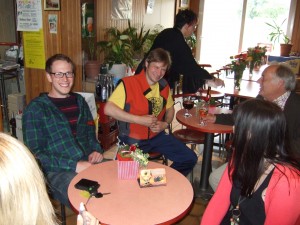 Ron and Jane showed us the sights and some local bars and we got back to the house just in time for Paul to arrive in the early evening. Paul set off on Friday night by Bicycle from Newhaven, camped outside Dieppe and started pedalling early on Saturday morning; a good 70 miles! He was a bit worn out and damp, but seemed to have enjoyed it all the same! He arrived just in time for a spectacular French feast and lots of wine which I am sure made him feel a lot better.
After being thoroughly spoiled and having a fabulous time (and no doubt with the trousers a bit tighter that previously), it was time to set off for Old Blighty again on the Sunday afternoon, via the cheese and wine shop of course (Paul left early in the morning as he was pedalling again!!).
Simon